Finally… I got my hands on some grand épeautre/spelt flour at the local Bio/organic health food store during a long awaited journey off the mountain to Nice. I have been waiting to remake the Poilâne miche (slang for "butt cheeks") from Local Breads by Daniel Leader and the wait was well worth it. His version of the Poilâne miche recipe uses a combination of stone ground whole-wheat flour and all purpose flour to simulate the type 85 flour, but oddly leaves out a key ingredient that is used in the Poilâne recipe, 30% spelt flour. I really liked the original recipe in a previous post….but this new version, cutting back on the whole wheat and the addition of the spelt, gives this miche a mellow earthy taste. The crumb is dense but light in texture and riddled with varying sized pockets. This dark, thick crusted rustic peasant loaf has become one of my recent favorites as it stay fresh for a long time — and the extraordinary taste!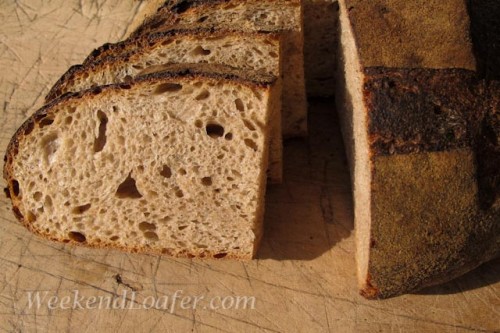 Pain Poilâne with Spelt 
Adapted from Daniel Leader's Local Breads
Desired dough temperature 76°
Levain Starter:
50 g stiff levain starter
100g Type 110 (85-90% extraction) ran out of Type 150
75 g water
Ingredients:
300 g  Type 80 (82-85% extraction)
150 g  Spelt flour
33 g    Type 110 (85-90% extraction) ran out of Type 150
17 g    Type 130 Rye
375 g  water
225 g  stiff whole wheat levain
10 g    salt
Bread method:
Take your levain out of the refrigerator, weigh out the appropriate amount of starter and mash the levain with a whisk in a bowl with the water. Add the flour and stir with a spatula until it comes together. Turn out onto the work surface and knead to incorporate the flours. Place the levain in a covered container and let it sit at room temperature (70 to 76°) for 8-12 hours or until it has doubled in volume and the surface is domed.
Pour the water into a large mixing bowl or the bowl stand mixer. Combine the flours until all the ingredients are incorporated. Cover and let it rest for 20 minutes, while the flour hydrates and the gluten begins to develop. (I could not fit my Kitchen Aid Pro in my suitcase, so I mix by hand… I autolyse/rest for one hour before adding the levain, which I think really helps the gluten development)

Kneading By hand

: Turn the dough out onto your work surface. I flatten the dough into a large rectangle; smear the levain on top of the dough. With floured or oiled hands knead a few strokes to fully incorporate the starter, flatten out the dough, evenly disperse the salt and continue kneading for 12 to 15 minutes. I use a combination of the first couple of minutes it will be a sticky mess on your work surface, but do not yield to the temptation of adding more flour. Stop occasionally and use your bench scraper to gather any stray dough off your work surface. Continue until you have a good gluten development. You should be able to gently stretch a piece of the dough into a thin membrane that you can almost see through without it tearing.  

By machine:

Add the salt and levain and mix at medium speed until the dough cleans up the bowl and you reach a good gluten development.
Transfer  the dough to a lightly oiled container. Cover and let it ferment at room temperature for one hour (70 to 75°). (I keep the dough at a consistent temperature 76° throughout.) If you would like to get a good overall picture of the bread making process for the home baker, I highly recommend you check out Mark's videos at the Back Home Bakery
Turn the dough out onto your lightly floured work surface, fold the dough and return it with folds on the bottom to an oiled bowl, then cover. Let the dough ferment for 2 to 3 hours more. You can incorporate another fold after 50 minutes if your dough does not seem to have sufficient strength.
You can make one big miche using all the dough.  Lightly pre-shaped it into boules and  cover and let it rest for 10-15 minutes to relax it.
Shape each piece of dough into a boule and place seam side up on a floured couche or into floured bannetons. Cover with a plastic bag or plastic wrap and proof at room temperature for one to two hours.  (70 to 75°)
About one hour before baking, preheat the oven with baking stone to 500° and place a tray in the bottom of the oven for steam. I like to add one cup of water or one cup of ice cubes to the bottom tray a few minutes before putting the loaves in the oven to produce a moist environment for  baking the proofed loaves.
Gently turn the proofed miche onto parchment paper or your floured peel. Score the miche. Slide the loaves onto the baking stone, turn down the oven to 470° and continue to bake for 40 to 45 minutes. (I turn the oven down to 450° and then after 20 minutes, rotate the loaves to get an even distribution of the heat.)  Bake until the crust is walnut brown. For a good crust you want a bold bake, when you tap the bottom of the loaf you should hear a hollow thud (that is a technical term).
Let cool on a wire rack before digging in. This bread gets better with age and will stay fresh up to a week.
This is being sent to YeastSpotting at WildYeast