Pain de campagne, or "country bread", is rustic bread baked throughout all regions of French.  There really is no one correct way to make a Pain de campagne loaf; the formulas are as varied as are the traditions of shaping the loaves.  Pain de campagne can be made with a natural leaven or with baker's yeast.  Some prefer to add a small percentage of rye flour to their dough while others prefer whole wheat. Throughout France, whether it is in the busy cities or the pastoral countryside you'll find Pain de campagne in almost any boulangerie you visit. Each baker has his secret recipe and shaping technique that he has developed according the regional tastes.  When in Nice the boulangerie I frequent makes his country bread with a levain naturel in both a boule and batard shape…the baker in the small town closest to me makes his in a batard and boule shape with a fendu (split) instead the traditional scoring. The thick crusted, humble Pain de campagne from Daniel Leader's Local Breads is perfect in every way…the dough is a pleasure to work with and displays a remarkable oven spring, the crumb has a full bodied deep flavor from the small amounts of rye and wheat…what else could you ask for?  
I was recently asked by a good friend who has been hit by the bread bug "How do you keep your dough at a consistent 76°?"  So I thought I would share the method I came up with to keep the levain or dough at any constant temperature you desire. When living in the United States in the Northeast the winter temperatures in my house would hover around 62-65° (by choice) and now, in France  living in a stone cottage(a cave) with 24inch stone walls it stay cool most of the year hovering  around 52-68° . You could always fall back on the old pot holder trick (3 folded pot holders=76°) in the oven door with the light on, it works in a pinch but, you always have to check to see if it is right. I came up with many ideas on how to make a proofer work… a plug-in car refrigerator/food warmer, a wine vault for the summer heat and a heater/light bulb for the winter. I turned to the internet and found a design for a proofer that Steve@Bread cetera posted @Fresh Loaf and I took it a step further. I went looking for a thermostat for reptile cages…. and ended up with a perfect alternative…a RancoETC microprocessor temperature controller thermostat that plugs into a heating unit(light bulb) or refrigeration system(for retarding).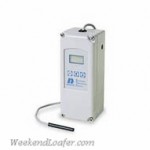 It really takes the prize and I got it for a good price on Craig's List from a home beer brewer who started making babies and then his wife made him stop making suds. After fooling around with microprocessor…I have found… I can control the internal temperature of the dough within a degree of where I want it to be. All you have to do is; set the temperature, insert it into the dough and forget it. For the proofer box in the states I got a sheet of insulation board (blue board) from Home Depot and cut it to fit in my pantry. The heat source is a 75 w light bulb. I also have an indoor outdoor thermometer I had laying around that sound an alarm if it goes past a set temperature…just as a fail-safe.My original intention was to get a small refrigerator or wine vault so I could bake all summer without a problem or use it as a retarder.
The proofing system I use now in France is just the oven…or microwave with the controller.
The microprocessor has become one of the most valuable baking tools I have…if I had to make a choice between an electric mixer and the microprocessor…I would choose the microprocessor! If you have a question or comment…please enter below…or e-mail me.
Pain de Campagne
Adapted from Daniel Leader's Local BreadsDesired dough temperature 76°
Levain Starter:
50 g Liquid levain
135g unbleached all-purpose flour (I used Type 65)
175 g water
Ingredients:
440 g  unbleached all-purpose flour or Type 55 flour (I used Type 65)
30 g  Stone ground whole wheat flour ( I used Type 150)
30 g Fine or medium rye flour (I sifted my Type 150 rye)
250 g water
310 g liquid levain (do not use all of the above, weigh it out!!!)
10 g gray sea salt
Bread method:
Take your levain out of the refrigerator, weigh out the appropriate amount of starter and whisk the levain in a bowl with the water. Add the flour and whisk until it smooth. Place the levain in a covered container and let it sit at room temperature (70 to 76°) for 8-12 hours or until it till it has expanded by about one third and the surface is bubbly.
Pour the water into a large mixing bowl or the bowl stand mixer. Combine the flours until all the ingredients (except salt) are incorporated. Cover and let it rest for 20 minutes, while the flour hydrates and the gluten begins to develop. If you are mixing by machine, you can wait to add the levain. I find it too messy to incorporate the liquid levain to the developing dough by hand.

Kneading By hand

: Turn the dough out onto your work surface. With floured or oiled hands knead a few strokes to start developing the dough, flatten out the dough, evenly disperse the salt and continue kneading for 12 to 15 minutes. I use a combination of the French kneading technique and the method described here if the  dough is really wet to start.  For the first couple of minutes it will be a sticky mess on your work surface, but do not yield to the temptation of adding more flour. Stop occasionally and use your bench scraper to gather any stray dough from your work surface. Continue until you have a good gluten development. You should be able to gently stretch a piece of the dough into a thin membrane that you can almost see through without it tearing. 

By machine:

Add the salt and levain and mix on medium speed until the dough cleans up the bowl and you reach a good gluten development.
Transfer the dough to a lightly oiled container. Cover and let it ferment at room temperature for 2 ½-3 ½ hours (70 to 75°). (I keep the dough at a consistent temperature 76° throughout.) If you would like to get a good overall picture of the bread making process for the home baker, I highly recommend you check out Mark's videos at the Back Home Bakery
Divide into two equal pieces and lightly pre-shape into a boule or a log shape. Lightly flour the dough, cover and let rest for 10-15 minutes. Shape each piece of dough into a batard about 12 inches long or a boule and place seam side up on a floured couche or into floured bannetons. Cover with a plastic bag or plastic wrap and proof at room temperature for 1-1 1/2 hours. (76°) When you press your floured finger into the dough, the indentation will spring back slowly.
About one hour before baking, preheat the oven to 500°with baking stone and a tray in the bottom of the oven for steam. I like to add one cup of water or a hand full of ice cubes to the bottom tray a few minutes before putting the loaves in the oven to produce a moist environment for the baking of the proofed loaves.
Gently turn the proofed loaves onto parchment paper or your floured peel. Score the loaves. Slide the loaves onto the baking stone, turn down the oven to 450° and continue to bake for 15minutes. Reduce heat to 400° and for another 20-25 minutes (I turn the oven down to 450° and then after 20 minutes, rotate them to get an even distribution of the heat and continue to bake until I have good color and when you tap the bottom of the loaf you hear a thud.)
Let cool on a wire rack before digging in.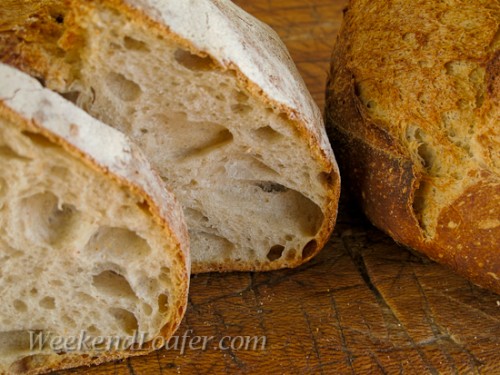 This is being sent to YeastSpotting 
This post is being featured in Magnificent Sourdough section in Teresa's blog "Discovering Sourdough."
North West Sourdough…is  a place to read about Teresa's and other bakers experiences  with sour dough, find recipes for baking real sourdough at home…and much more!  Check it out…..