Caramelized Upside-Down Tart
When I came back to the bergerie from gathering these little gems, I looked at the many French cook books on the shelf to look for inspiration for this luscious fruit. The first book, I went to is one of my favorites (and it helps that it is in English), Bistro Cooking by Patricia Wells. The book is filled with over 200 recipes inspired by some of her favorite Bistro Chefs and friends throughout France. The recipes are real easy, earthy, down home French style cooking. I have made many of the recipes, but the Rabbit and Mushrooms and thyme recipe given to her by her local butcher Monsieur Henny tops the list. Who would have thought I would become a fan of rabbit? Now back to the tart…. this is a pear version of the Apple Tarte Tartin or upside down apple tart made famous by the two Tatin sisters from the village of Lamotte-Beuvron. There are many versions of this tart, but this one is the real deal, and so easy to make. The Tarte Tatin aux Poire is really just well caramelized pears and a thin layer of pastry on top. The pears in this rustic tart should be cut into large pieces…the bigger the better! You can use any 10 1/2" baking dish, tart pan or a special tin lined copper Tartin pan. Patricia Wells suggests using a glass baking dish so you can see if the pears are sticking when turning it out. This is a really easy and VERY delicious desert…don't think twice about giving it a try! You can even use apples instead….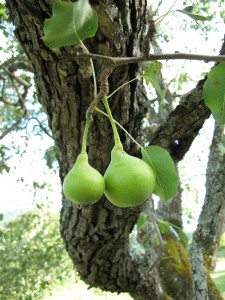 Tarte Tatin aux Poire
Pâte  Brisée – Flaky Pastry
140 -175 g ( 1-1/14 cup) all purpose bleached flour (I used T55 unbleached)
105 g  (7 TB) unsalted butter, chilled and cut into pieces
1/8 tsp salt
3 TB ice wate
Place flour, butter and salt in a food processor. Pulse for 8-10 seconds until the mixture resembles coarse crumbs. Add iced water and pulse until it begins to hold together, 6 or 7 times. Do notlet it form a ball. Put on waxed paper or plastic wrap and form a disk. Refrigerate until firm….1 hour or more. That is it…it takes about 30 seconds!
What you need:
90g (6TB) unsalted butter
7-8 firm pears (2 2/4 lbs; 1.75kg) Bosc or Anjou, peeled quartered, and cored
100 g sugar
Pâte  Brisée (above)
1 cup  crème fraîche or sour cream or make your own
Here we go:
Preheat oven to 425 F (220 C)
Melt butter in 12" skillet over medium heat. Add sugar and pears, stir carefully to keep the sugar and pears from sticking for about 20 minutes. Increase heat to high and cook until mixture is deep golden brown, about 15 more minutes. Shake the pan occasionally and make sure that the sugar does not burn. Do not be tempted to take them off too soon, they should be well caramelized with a deep golden brown.
"Literally pile the pears" into an unbuttered 10 1/2″ pan of choice (she uses glass). I arranged the pears cut side up for a nice presentation.
Roll out the Pâte  Brisée slightly larger than the pan and place on top of the pears, tucking the edge around  and down into the pan.
Place in the center or preheated oven on the middle rack. Bake for about 35-40 minutes until the pears bubble and the crust is golden brown.
Remove the tart and immediately place a large, flat heat proof platter ( flat side down) on top of the pan. Carefully invert the pan and give the bottom a firm tap to release the pears from the pan. Serve at room temperature with a bowl of crème fraîche to spoon over the tart. If you cannot find crème fraîche you can find some ideas here or watch this video on how to make your own.